Club Del Ray
How do you meet people in Del Ray? Fortunately there are numerous clubs, meet-ups, membership associations, parent groups, etc. at the ready to connect people with similar interests. You don't have to go far to find a fellow knitter, foodie, or antique car enthusiast. Today we thought we'd share a list of some of the groups we know of — did we leave any out? Please comment and let us know!
Del Ray Yarn Bombers
The Yarn Bombers meet twice a month and work on small and large-scale yarn projects — from the 2013 award-winning holiday tree and the magnificent donuts hanging from the ceiling at Sugar Shack to simple yarn decorations on fences and trees around the neighborhood. This group of crafty ladies (and gents) make Del Ray even more unique. You can join the group by sending a message to their google group or by attending a meet-up at Emma's Cafe on Hume the first and third Saturday of every month from 2-4 pm. All skill levels of knitters and crocheters welcome!
Del Ray Kinderchoir
Our friends Kay Sidhamed and Paula Thomas started the Del Ray Kinderchoir this past spring as a way to spread the joy of music to kids in grades 1-4. All children are welcome regardless of singing ability. Children sing from the rich offerings of American and international folk music as well as from classical repertoire. This past May, the choir performed a concert at the Del Ray Artisans studio. Kay says they still have openings for the fall semester and you can get more information on their website.
Del Ray Artisans
Founded in 1992, the Del Ray Artisans help make Del Ray such a thriving artistic community. Their mission is "to promote art for the benefit of artists and the community." Throughout the year, the non-profit supports new and emerging artists and sponsors events and activities, including the popular Art on the Avenue and Holiday Art Market. Membership is open to all. For more information, visit their website.
Del Ray Fun Runners
I started this group earlier this summer with a few friends — we meet on Fridays at 7 pm, run three or so miles around the neighborhood, and then hang out on someone's porch with snacks and celebratory drinks. It's grown from a group of six to nearly 25 dedicated Friday runners (of all ages and speeds), now with coordinated shirts thanks to Jen Walker. With fall on the way and daylight dwindling, our Friday night runs may end soon. But we're planning weekend runs throughout the fall and winter until we start up again next summer. If you'd like more information, feel free to email me.
Del Ray Robust Walking Group
And speaking of exercise, as I was writing this post, I received an email from one of the local listserves for the Del Ray Robust Walking Group. This group "provides low impact exercise that makes you feel alive. Come join us every Monday, Wednesday and Friday at 8 am for an hour. We meet in front of the Mount Vernon Recreation Center."
Classic Car Club
You can't miss the vintage and classic cars around Del Ray — we've written a few posts about some of the cars we've seen. And yes, there's even a club for car aficionados that meets periodically with their cars to talk shop. If you have a classic car and are interested in getting in touch with the group, email me and I'll connect you with one of their members.
Del Ray Dads
Obviously, this one is limited to men, so we aren't members, but rumor has it there's a listserve, tool exchange program, regular happy hours and meet-ups, even a band, The Derds.
Friends of Duncan Library
The Friends of Duncan Library is a non-profit 501(c)3 organization that supports the operations of Del Ray's Duncan Branch Library. The Friends raise money to help fund activities and purchase materials not covered through the city budget. They also sponsor a book club, film series and help beautify the grounds of the library. Visit their website to join!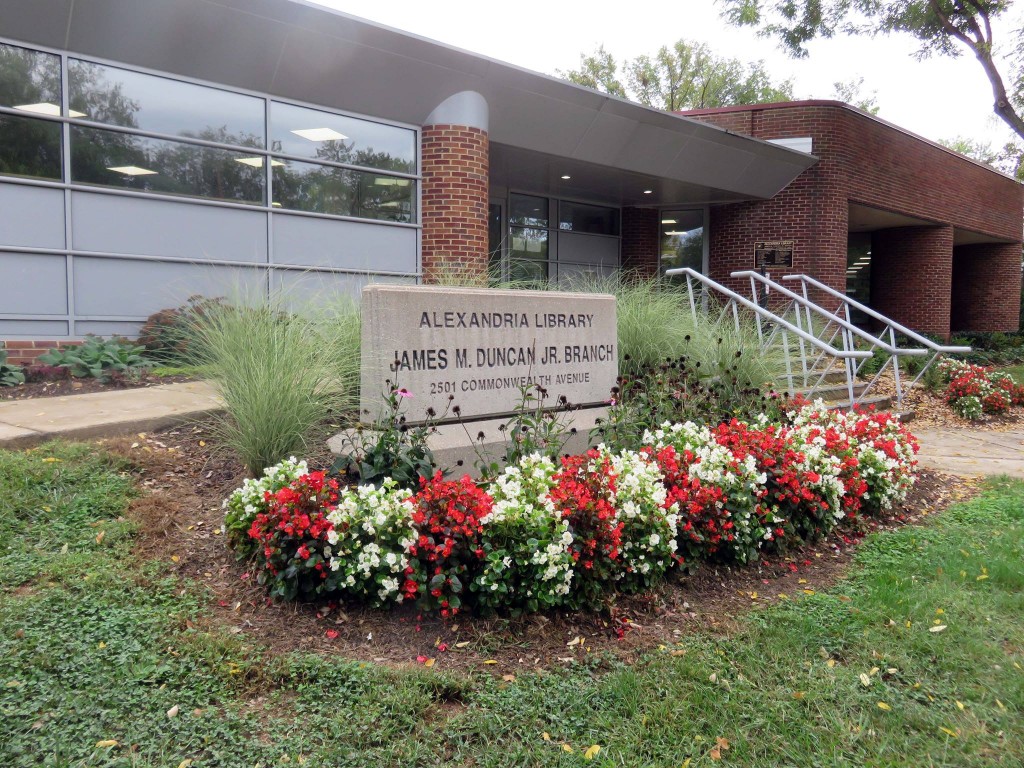 Photo Credit: Friends of Duncan Library
Del Ray/Alexandria Food Swap
If you enjoy making homemade food, growing your own food and sharing food with neighborhoods, you'll want to connect with the Alexandria Food Swap. We've hosted several food swaps in Del Ray over the past few years and have recently merged our swaps with the Alexandria group. Visit their Facebook page to get information about upcoming swaps and local food-related events.
Del Ray Adult Coloring Book Club
And finally, just launched this summer, the Del Ray Adult Coloring Book Club meets Tuesday nights at Emma's Cafe on Hume for friendly conversation while enjoying the relaxing and meditative benefits of coloring. Email us for more information.
You can also connect with others in Del Ray on the local listserves and online communities. Here are a few:
What other groups and clubs have we forgotten? Please comment below!